Culinary Corners: Infusing Kitchens with Kitchen Gardens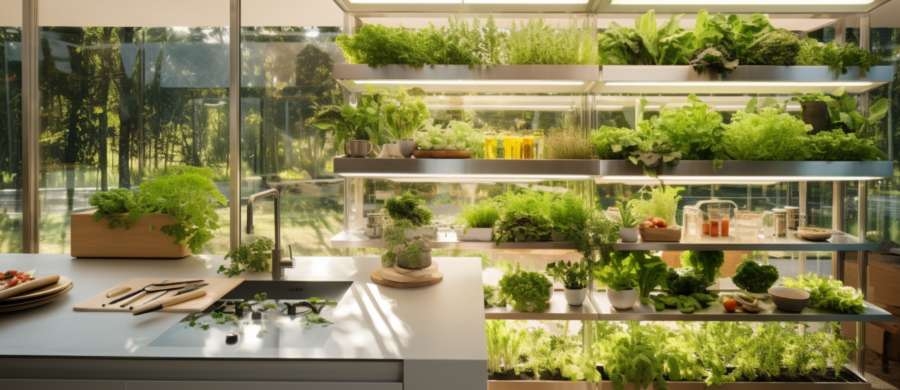 A Desperate Housewife's Tale
Picture this: a frazzled homemaker, hair pulled back into the tightest of buns, eyes wide with panic. The in-laws are coming for dinner, and there's a last-minute scramble to make it all perfect. The pièce de résistance? A homemade herb-crusted roast. The problem? No herbs. A frenzied dash to the store results in time wasted, nerves wrecked, and an average-at-best meal that seemed to have been seasoned with disappointment and missed expectations. Now, imagine a world where herbs, vegetables, and a cornucopia of edible flora were at your fingertips. The roast would have been divine, the in-laws would have been impressed, and our hapless heroine would still have her sanity. That's the world of culinary corners – a magical place where kitchen gardens are the answer to all your culinary woes.
From Chaos to Kitchen Garden
Between the food processor, the blender, the coffee maker, and the toaster, kitchen counter space is a precious commodity. But fear not, dear friends! With a little ingenuity and some TLC, you can transform your kitchen into a veritable Garden of Eden. And the best part? You don't need to be a master gardener or a wizard to make it happen.
Start Small and Grow with Love
There's no need to go overboard when starting your kitchen garden. In fact, it's better to start with just a few pots of herbs. This will give you a taste of the gardening life without overwhelming you with responsibility. Try starting with basil, cilantro, or parsley – they're easy to grow, and your food will thank you for the extra flavor. As you get more comfortable with your new green roommates, you can expand your repertoire. Before you know it, you'll be juggling tomatoes, peppers, and even eggplants in your kitchen garden, ready to whip up a feast at a moment's notice.
A Tale of Two Planters
When it comes to choosing planters for your kitchen garden, there are two schools of thought: practical and stylish. The practical gardener will probably opt for plastic pots or terracotta pots, which are inexpensive, durable, and easy to clean. The stylish gardener, however, might lean more towards chic ceramic pots or even repurposed containers like tin cans, mason jars, or vintage tea tins. Whichever route you choose, just make sure the containers have drainage holes to prevent your plants from drowning in a pool of their own tears. Trust me – it's not a pretty sight.
Let There Be Light!
Plants, like humans, need sunlight to thrive. But let's face it – not all kitchens are blessed with an abundance of natural light. If you find your kitchen garden is struggling to grow in the dim recesses of your home, you might want to consider investing in grow lights. These imitation suns can be found at most gardening supply stores or online, and will provide the necessary rays for photosynthesis – the magical process that turns sunlight into food. Simply set up the lights above your plants, plug them in, and watch as your garden comes to life like a scene from a Disney movie. Just be sure to keep your grow lights a safe distance from any water sources, lest you want your horticultural dreams to quickly become an electrical nightmare.
The Circle of Life
Like all living things, plants have a life cycle. They start as seedlings, grow into maturity, and eventually wither away, making room for new growth. Embrace this natural progression by continuously planting new seeds, either in the same pot as an older plant or in a separate container. As you become more proficient in the art of kitchen gardening, you'll find yourself able to harvest multiple generations of plants at once, ensuring a continuous supply of fresh ingredients for your culinary creations. It's like having your very own circle of life, right there in your kitchen.
Reap the Rewards
With a little time, effort, and care, your kitchen garden will begin to flourish. Soon, you'll be dining on the fruits (or veggies) of your labor, enjoying the freshest and most flavorful meals you've ever had. And as your plants grow, so too will your sense of self-satisfaction and pride – after all, you're the one who nurtured them from tiny seeds into bountiful harvests. So the next time your in-laws come for dinner, don that apron, grab your shears, and head to your kitchen garden. You'll be infusing your dishes with love, and your in-laws will be eating out of the palm of your hand. Bon appétit!